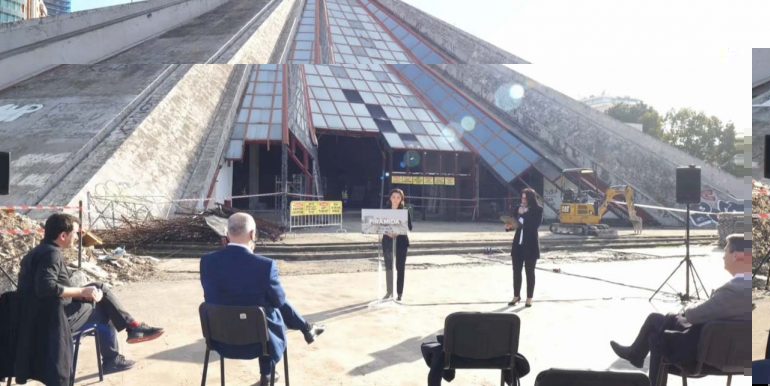 US Ambassador Yuri Kim considered the old incarnation of the Tirana Pyramid "a cynical investment of the dictatorship".
During her speech at the start of the works for the reconstruction of the Pyramid, she said that a year ago the American foundation agreed to turn this object into a center of innovation and technology.
"As we all know, the Pyramid of Tirana was opened in 1988 as the Enver Hoxha Museum, a cynical investment of the dictatorship. As the Albanian people proved in 1991, and as they show today, they actually had a role. 
A little over a year ago, the Albanian-American Development Foundation agreed to promote technology innovation."
Kim said that this center will serve for young people to develop in these areas.
Mayor Veliaj has promised for years the reconstruction and change of the function of the Pyramid, but work only started in the last couple of months.
Meanwhile, the Municipality cordoned off the Pyramid and the surrounding area for almost two years, despite not having a permit for reconstruction. This permit was only approved in June 2020.
Exit News brings the following chronology for the change of ownership of the Pyramid and the abolition of the status of 'cultural monument':
To facilitate the decision-making process for the Pyramid, the Rama Government transferred its ownership from the government, the Ministry of Culture, to the Municipality of Tirana.
This government decision makes it easier to decide on status change and reconstruction of the Pyramid. Previously any decisions required for the Pyramid would have been passed to the Council of Ministers, but now it remains only in the hands of the Mayor.
In December 2016, the Council of Ministers transferred ownership of the building and land from the government to the Municipality of Tirana. Due to the change in the status and ownership of the Pyramid, there would be less oversight and bureaucracy.
With the DCM of December 2016, it was determined that the pyramid will be used by the Municipality of Tirana as "a multifunctional center for organising social performances and for the promotion of art, culture, and technology."
Municipality plans for the reconstruction of the Pyramid
Mayor Veliaj  has promised  that the Pyramid 'will be transformed into one of the largest centers of innovation and technology, art and culture in the region.'