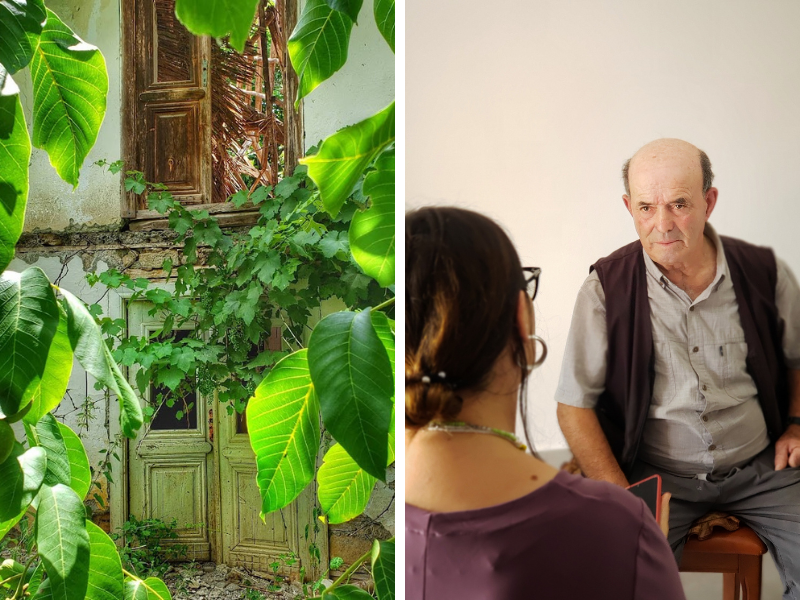 For 50 years, Albanian people languished in poverty and persecution. Communists revoked their human rights, and only the elite, such as members of the party, existed in comfort.
Over the years, thousands of people were executed and murdered. Thousands more lost their lives in horrific conditions in prison and labor camps throughout the country. 
Today, the remains of between 6000 and 7000 people are still missing. 
One of the most horrifying parts of this situation is that there is no memorial for them, and prosecutors have stonewalled efforts to recover their bodies. 
Yet, in the center of Tirana, just off the main boulevard, the remains of statues paying tribute to Enver Hoxha, Stalin and Lenin remain. 
The iron fist of Hoxha grasped the entire country from north to south, east to west. He knew no mercy, and even those in far-flung rural areas could not escape his tyranny. 
For the second episode of the Memory Files, we traveled to Voskop in the Municipality of Korce, some 185 kilometers from the dictator's seat of power. This story demonstrates that even a deep and unbridled love for your country was not enough to escape the wrath of communist terror.
We turned off the main road and into the village of Voskop, a hotch-potch of old stone houses, interspersed with more modern, single-story buildings; it is a quiet, rural, and unassuming place. The temperature dial showed it was 38 degrees, and the hot sun had scorched the trees and fields, turning them a dusty brown. As we approached a small bridge, an elderly man stood by the side of the road, waving his hand enthusiastically in our direction.
Hysen Shaholli stood proudly with a smile on his face and a baseball cap positioned jauntily on his head. He got in the car and directed us down a winding, gravel path to his family home. Upon arrival, we were ushered into the house, bordered by a kitchen garden, complete with kittens sprawling in the sunlight.
His wife showed us to the sitting room, and a younger girl appeared to serve us sweets and heady fruit liquor.
The subject of our interview is his grandfather, also called Hysen Shaholli. Today, he carries the burden of his namesake with equal measures of pride and sorrow. He sat on a chair in the hallway of the home and began to tell his tale.
His grandfather Hysen was born in Voskop, but had emigrated to America when he was a young man. Lasting just one year before the homeland's call summoned him back, he explained that Hysen was a patriotic man. A member of various patriotic groups, he believed in protecting his country at all costs.
As well as his unbridled patriotism, he explains that Hysen was a charitable man who worked hard to provide for his children and work the land around their home.
Shortly after his return from America, Hysen got married, and over the following years, he fathered three boys and two girls. He and his large family lived in the village, surrounded by extended family. They tended the land, raised agriculture, and lived a simple but fulfilling life.
In terms of his patriotic activity, Hysen volunteered to protect the National Congress that had declared independence in Vlora in 1912. Then, in 1914, he volunteered again to defend the declaration of independence in the Republic of Korca.
His grandson explains with swelling pride, "He always had the rifle on his shoulder- when he went to the fields and when he tended the cattle. He was always humane and charitable, a concrete example of a good man. "
He told us a story of when a friend from a neighboring village emigrated to America. Before his departure, he had asked Hysen to keep an eye on his family. Hysen reassured him and said, "if your children die, mine will too. If there is food for my children, there is food for yours too. Do not worry, and God bless you. "
Keen to demonstrate the kind nature and love of the community fostered by his grandfather, he explains how local thieves had tried to steal sheep belonging to one of his neighbor's children. He confronted the thieves, demanded they return the animals and assured them that if they were really in need of meat, he would find them as much as they wanted.
But by the late 1930s, World War II was looming, and the seeds of trouble were being sewn in Albania. One of Hysen's sons was a part of the first battalion set up to defend Korce from the Italian fascist invasion. The Italians won, and he found himself fighting against the Greeks in the Greco-Italian war. He was subsequently exiled to Greece for five years before returning to Albania.
His second son, Muhameti, was a partisan and had joined the 20th brigade in Korce.
"Not because he was a communist," explains Hyseni, "but because the country was at war and had to be defended."
But despite his son being a partisan and another son fighting for the country when the Italians attacked, this was not enough to save Hysen. He had become an enemy of the Communist Party, despite being a good, charitable man who loved his country.
His grandson exclaimed. "How could a family defending the country be enemies? But this is how the regime was. They considered him an enemy, and he was forced to suffer what no one should ever have to suffer. "
So what was his crime? Why was Hysen such an enemy? And why did the communists wipe him from the face of the earth, not leaving one single trace?
Hysen was a friend of Sali Butka, a famous Nationalist figure, a poet, and a delegate of Korce to the Albanian National Congress of Lushnje. He belonged to the well-known Frasheri family and eventually became a commander in various guerilla bands. He and his men fought against Ottoman rule in the south of Albania, as well as during the Balkan Wars and World War I before he died in 1938.
Sali had five sons, among them Safet Butka. He was born in 1901 and was a nationalist, professor, and politician. Safet also organized demonstrations during the Italian invasion, as well as various anti-Fascist movements in the south. 
But what made Safet particularly problematic to the communists was that he was a founding member of the nationalist movement, Balli Kombetar.
One night, Hysen invited Safet to his home to dine and talk. The professor was a prominent figure at the time but had been declared an enemy by Enver Hoxha, despite being a "true hero" in the eyes of many.
Word got around of their meeting, and before long, Hysen had been tarred with the same brush. Labeled a "ballist," a sworn enemy of the communists, he had to tread carefully to avoid conflict. Then one fateful night, he was eating dinner with his cousins ​​in Plasa. It was 1944, and the communists were about to seize control of Albania.
One of his cousins ​​began to tease him about the Communist Party and his attitude towards them. Hysen responded by dismissing the party as nothing more than "children." His cousin quickly and swiftly betrayed him, reporting his comments to the party.
A few days later, the communists came for Hysen, who, at the time, was at the respectable age of 66. 
They seized him, threatened him, and maltreated him, telling him that they would strip him of his clothes and shoes. He managed to escape and fled towards a nearby river. Upon reaching its shores, the communists shot him and killed him. 
It's believed his body fell into the river, but to this day, the family still does not know for sure.
"They shot him and killed him in the river … his body has never been found," his grandson says with a solemn expression.
His murder seemed like an omen of what was to come for Albania. Previously, people interacted based on their shared history, struggles, and the longstanding tradition of the friend's sanctity, despite their ideas and political views, but after 1944 that would not be possible. 
Many notable patriots and people who fought for the country were branded traitors and were killed by communists.
He explains that he was labeled as a Ballist by the Party, but the committee in Korca did not dare to refer to Hysen this way. This, his grandson said, was because everyone knew what a true patriot he was.
Then, with a tone of defiance, he speaks up.
"I share the same name and the same character as him. I did not care for the secret police, directors, or bosses. I only cared for God. "
It seems that the nationalist and rebellious nature of Hysen has rubbed off on his grandson. Taking a sip of raki, he tells us how, when he was still a boy, he demolished a communist monument that labeled his grandfather a ballist. 
Such was his anger and frustration that he risked his own life to defend what he felt was right.
"It's an absolute horror," he said. "It's an ugly crime. Patriots, patriotic people, real heroes, and ballists were all considered enemies and collaborators of fascism. They made the laws, and they did as they pleased. The best families, the real patriots of Albania, were declared enemies, "he exclaims, his voice becoming louder.
Continuing his outpouring of emotion, he describes how the system worked and that Enver Hoxha had a penchant for killing off people he thought were enemies, even his close friends and associates.
"Friends like Nako Spiro … some he even killed himself, in secret … right until the end when he killed Mehmet Shehu," he exclaimed.
But despite the apparent raw emotion around Hysens murder and disappearance, this family remained proud.
"At weddings and other occasions in the village, we felt proud of him and spoke his name freely. The communists did not dare to mention him, "he explained.
So how did the murder impact the rest of the family? Hysen's grandson explains that he was inspired to be charitable and help those less fortunate in the community. 
Tainted by a 'black mark' and a 'bad biography' forced on the family by the regime, life was not straightforward.
He believes that while they did suffer some persecution, it was limited due to the undeniable patriotic legacy of Hysen.
"There was no significant discrimination, but in the eyes of the people, they would say, 'behold here is the nephew of the Ballist.' This black mark was put upon us; the conditions and opportunities we had were different, we lacked strength. "
The children of the family could attend school, but not higher education, not even high school. When they finished their studies, the communists sent them directly to the cooperative.
Time and again, our narrator's rebellious nature would surface. On one such occasion, he told his friends in the cooperative that "the fish rots from its head" to describe the miserable situation in the country. For this, he was detained in the local branch of the Ministry of Interior for four days, during which he insisted calmly that it was just an expression that everyone used.
He avoided the worst but was sent to work in Burrel for over a year to work in the mines near the infamous prison.
It could have been a harsh winter, he said, but he found good people there, and they were able to make each other's life easier. He remembers the experience quite fondly, under the circumstances, before being sent back to the village to work in the fields. 
He explained how some people working in Burrel had only bread with sugar on top to eat.
 "A terrible misery!" he said, adding that "One of the ugliest crimes of the communist system was leading the people into poverty."
Albanians suffered greatly under communism. While the elite lived in some level of comfort, the rest of the population survived on rations and vouchers. Thousands died from malnutrition throughout the country.
The wizened man in front of us sighs and wrings his hands.
"My grandfather had high hopes for Albania. He and his friends fought for better days and hoped everything would work out. They didn't go to school, but they weren't ignorant. They were always there when they were needed to defend the country. They were people with big hearts and great vision." 
As the interview drew to a close, just one last question remained; what he would ask Hysen if he had the chance today.
"I would ask him a few things, but he has already said all he had to say. He would say he loves his homeland, that you should always do good and never evil, and that you should love each other and be good people. But always, the homeland comes first," he concluded as his wife, Sibe wiped a silent tear away in the background.
With thanks to the Shaholli family. In memory of Hysen Shaholli.
Project supported by Konrad Adenauer Stifftung