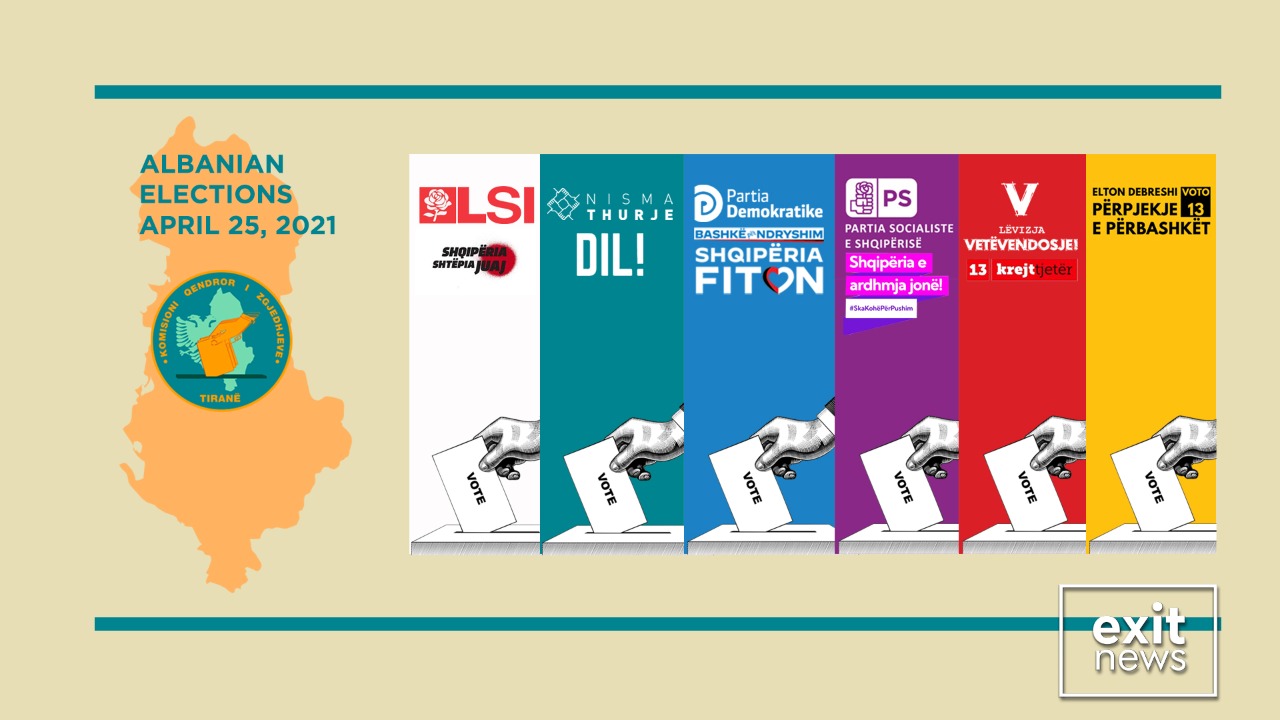 During the last week of the election campaign, the political parties and their MP candidates continued their electoral meetings in several cities of Albania. Exit brings you a roundup of the key promises and comments made during yesterday's meetings. 
Socialist Party (PS)
The political leader of Vlora, Damian Gjiknuri held meetings in Himare and Qeparo. Gjiknuri focused on investments made by the governments during the two terms. He said that the initial property registration in Himara is now on the right track thanks to legal changes.

The political leader of PS, Mayor of Tirana Erion Veliaj, was in Luz i Vogel, Kavaje. He said that there is no turning back and the vote for Rama should be the only way to move forward.

Taulant Balla, political leader for Elbasan

was in Peqin. He said that PS will continue to invest even more to help farmers.

Prime Minister Edi Rama

said that the small town of Peqin will undergo transformations during the third term in the infrastructure of the city, starting with the central square.

MP Candidate of Korca, Olta Xhaçka

held meetings with the women of Erseke. She said that "every vote on April 25 is a guarantee for the future of their family and children"

PM Rama held a conversation with citizens of Pogradec. He promised interventions in the development of tourism in Pogradec. He said that Albania will become a champion of the Balkans in agriculture.

 
Democratic Party (PD)
MP candidate in Tirana, Jorida Tabaku met women entrepreneurs.  She said that "PD will open the market, higher salaries for women, zero-interest loans for young couples, 6% VAT on tourism for all categories".

PD Political leader of Shkodra, Helidon Bushati held a meeting with civil society organizations. They discussed the rural areas of Shkodra, lack of investments in schools, the quality of education, discrimination of women and girls.

MP candidate Xhelal Mziu held meetings in Diber. He said that over 50% of schools in Dibra have been closed. Oil prices have risen, groceries prices have increased. It has become more difficult to find a job and support the family. 

Chairman Lulzim Basha

held several meetings in Tirana. He invited citizens to support PD and vote for the change.

MP candidate Flamur Noka met a family who complained that they had not received any support from the government for their health treatments.  Noka said that "playing with citizens' health is a crime".

MP candidate Gazment Bardhi was in Fushe Mbret, Elbasan. He said that Fushe Mbret is one of the poorest neighborhoods of Elbasan. "Totally abandoned, there are basic shortages of sewers, roads and water supply".
Socialist Movement for Integration (LSI)
Chairwoman Monika Kryemadhi

was in unit 5 in Tirana. She said that "socialists in Albania will vote for LSI. The force of change lies in the hearts and character of every Albanian, who are invincible".

Vice president of LSI, MP candidate in Fier Kejdi Mehmetaj held a meeting with women in Vlora and Fier. He said that "the strength of LSI stems from the power of women and girls".

MP candidate in Tirana, Perparim Spahiu held a meeting with young people. He said that "young people can determine the future of a nation".

Petrit Vasili declared that Unit 5 in Tirana has already made its decision of voting for the victory of LSI. He said that "the time of spies has ended once and for all".

 
Nisma Thurrje (NT)
The party presented another of the 33 draft laws they are proposing. This draft law is called "Property Security". In order to stimulate domestic production, unused fertile land is taxed more than agricultural land which benefits from financial state support.

MP candidates of NT Endrit Shabani and Panajot Soko explained that "property distributed through land law no. 7501, if the land for the last 10 years continues to be unused by the beneficiaries, is returned to the previous owner."

MP candidate in Tirana Feliks Merolli presented another draft law "Democratization of agriculture".

MP candidate in Elbasan Rudina Hajdari was in Gramsh. She held a meeting with ambassadors of the EU, Germany and France.
Vetevendosje (VV) 
Candidate in Tirana Boiken Abazi together with LVV activists held meetings in Don Bosko in which they distributed the program points and talked to citizens. 

Candidate in Gjirokaster Kreshnik Merxhani was in Permet. They distribute their program points and talk to citizens to support them as a different alternative.

The candidate in Lezha, Iliaz Shehu held meetings with citizens at Pazari i Milotit. He talked about tourism opportunities in this region.

 
Independent Candidate
Independent Candidate for Dibra, Elton Debreshi

held several meetings with miners and former miners of Dibra district. He reiterated the importance of miners' status being granted.

He shared a report on Turkish public television TRT supported by Kastriot Berberi, a councilor in London, which talked about his candidacy and the situation of Bulqiza miners.