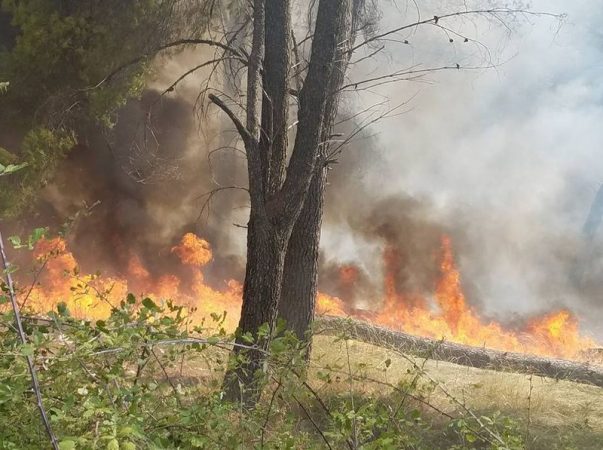 The Albanian government has taken a loan of €30 million from Italy to bolster its civil defence capabilities, particularly those relating to firefighting according to Defence Minister Niko Peleshi.
The announcement was made at the meeting of the Council of Ministers on Monday, and it includes the creation of a civil defence centre, search and rescue structures, and the purchase of two helicopters to help extinguish wildfires.
"The draft decision between Italy and Albania on the establishment of the civil defence system was approved. Italy has committed to support civil defence in foreign for €30 million….A civil defence centre will be built, then in all the prefectures 12 of them will be built operational halls connected to the network," Peleshi said.
"Vehicles and equipment are expected to be purchased for the Firefighters. Part of the loan will also be the purchase of aerial vehicles for fires during the summer," he added.
Peleshi specified that part of the loan will also fund a training camp for firefighters.
In 2021, Albania experienced a worse-than-normal fire season with thousands of hectares destroyed throughout the country.
While 2022 was not as severe, hundreds of hectares were destroyed and Greece sent two water-dropping aircraft to assist with the wildfire season, according to European Commissioner for Crisis Management Janez Lenarcic.
"The heatwave is whizzing also through southeastern Europe, including the high danger of wildfires. Upon the request for assistance from Albania via the EU Civil Protection Mechanism, Greece has offered assistance," he said in a tweet.
A study published in 2013 recommended that the government improve the network of forest roads to create fire-prevention boundaries. They also said that firefighters should be provided with the necessary equipment to fight blazes in difficult-to-reach areas. More training should be provided to firefighters, and the capacity of volunteer fighters should also be improved.
It also suggested that changes to existing laws be enacted and that coordination and collaboration between institutions and organisations should be bettered.
But the situation is expected to get worse. The Balkans are yet to experience the brunt of climate change, including higher temperatures, longer summers, and less rain. The summer of 2022 was one of the hottest in recent years, with temperatures over 33 degrees since early June and reaching 43 degrees on several occasions.
This will increase the risk of forest and wildfires and prolong their burning when the inevitable happens. Some studies have suggested that Albania and other countries in the region can expect the fire season to be extended by an additional two to six weeks over the next 40 years.
As for Albania's helicopters, its existing fleet is currently grounded due to issues with maintenance contracts that are still yet to be resolved.