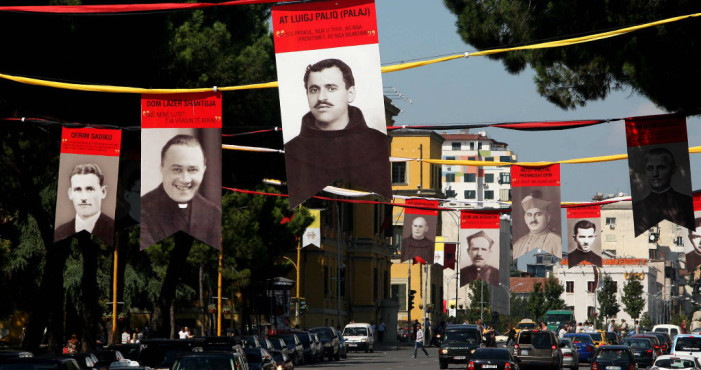 On Saturday, 38 Albanian Catholics executed and tortured under the dictatorship of Enver Hoxha were beatified in the Shën Shtejfni cathedral in Shkodra by cardinal Angelo Amato, the Prefect of the Congregation for the Causes of Saints.
During the ceremony, Fr. Ernest Simoni, who has been named cardinal by Pope Francis held a box with the bones of several of the people killed during the communist regime. Simoni himself had spent 18 years in the Spaç prison camp, after being arrested in 1963 for saying mass.
Simoni will be officially invested on November 19 during a ceremony, called consistory, in the Vatican. Due to his advanced age, he will not be allowed to vote in the Papal conclave; he received his title in recognition of his sufferings.
Broken Transmission
The celebration was tainted by the fact that the Albanian National Radio and Television (RTSh) broke off the live transmission of the celebration. The Society of Professional Journalists, Society of Electronic Media, and the League of Albanian Journalists responded with the following statement:
[…] Albanian Public Television, which usually produces the signal in order to avoid the confusion that would be created by the presence of the many cameras of other TV channels, unexpectedly interrupted in a unilateral and criminal manner the signal for the TV channels that were transmitting the ceremony for their viewers. Without understanding the national importance of this extraordinary event, and with unworthy behavior, the public TV considers the production of the signal of this ceremony as its own product […] as if a sports ceremony or an artistic event. […]
The societies appealed to the Parliamentary Commission for Media, the Media Authority, and the Directors of the RTSh to investigate.