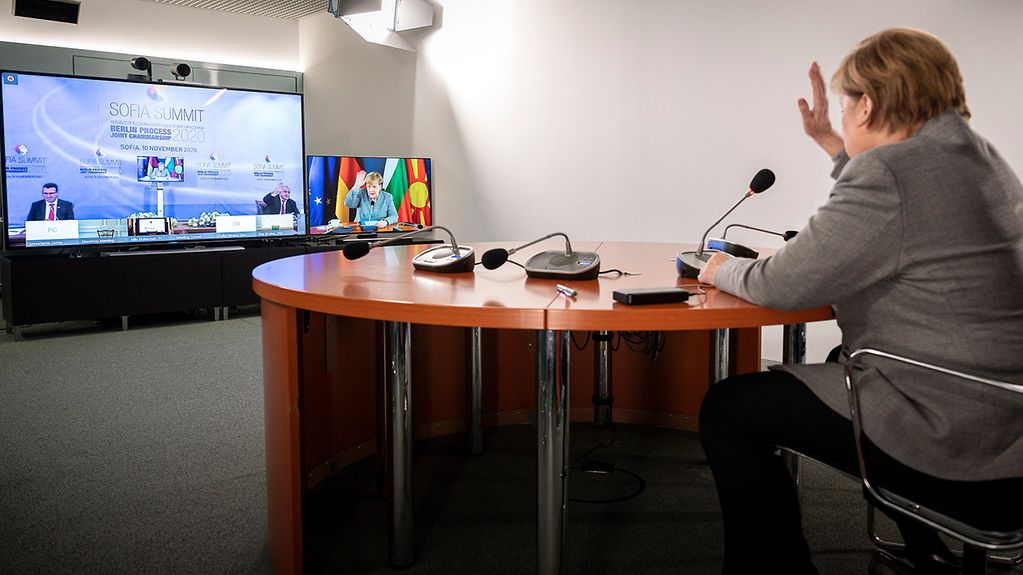 The leaders of the Berlin Process are holding their 8th annual summit in a video conference on Monday, hosted by German Chancellor Angela Merkel. 
Albania, Bosnia and Herzegovina, Montenegro, Kosovo, North Macedonia, and Serbia from the Western Balkans will join 9 EU member states – Austria, Bulgaria, Croatia, France, Greece, Germany, Poland, Slovenia, and Italy – to discuss the region's state of affairs and its future with a focus on EU accession.
This will be the last summit under the leadership of Merkel, its initiator, who is leaving office this autumn.
The Berlin Process was launched in 2014 as a platform to assure higher integration within the Western Balkans as EU enlargement itself had stalled. Its aim was to keep WB countries at the EU's bay, ensure their relative reforms are implemented, and maintain high-level contacts between WB and EU leaders. 
Indeed, in the past seven years, the only advancement towards EU enlargement by countries in the region has been the European Council's March 2020 decision to open accession talks with Albania and North Macedonia. However, talks haven't started yet, initially due to conditions set on Albania, and later because of Bulgaria's veto on North Macedonia.
The relevance of the Berlin Process has become even more important in the context of slow EU enlargement.
In 2015, Western Balkan countries established annual business forums and civil society forums for the region, under the umbrella of the Berlin Process.
In 2016, they also established the Regional Youth Cooperation Office (RYCO), which has since worked to promote cooperation amongst Western Balkan youth through exchange programs.
They also signed off on the Common Regional Market (CRM) in November 2020 – an initiative aiming at creating a regional area for trade, investment, digitalization, industry and innovation that would bring the whole region closer to the EU. Its first result was the removal of roaming tariffs in the Western Balkans starting July 2021.
The CRM has proved to be more successful than another smaller initiative launched last year by the leaders of Albania, Serbia, and North Macedonia – the Mini Schengen, whose future remains unclear. With other regional countries refusing to join, the initiators are expected to change its name later this month.
In today's summit, participants are expected to agree on allowing travelers to use use only their ID cards when travelling in the region, to facilitate the recognition of university diplomas, and discuss projects related to EU investments.