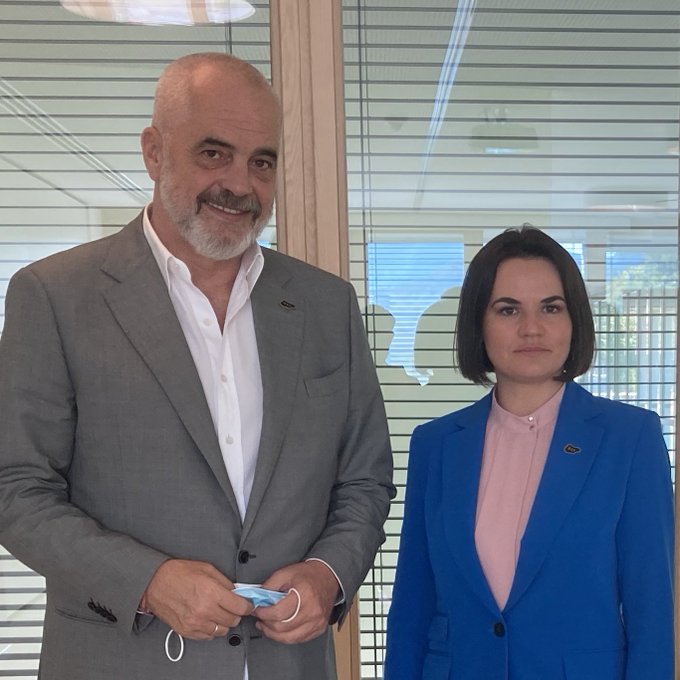 Belarusian opposition leader Sviatlana Tsikhanouskaya will visit Tirana today at the invitation of Prime Minister Edi Rama, according to a Twitter post on Tuesday.
I am glad to announce my visit to Albania tomorrow, September 29, at the invitation of 🇦🇱 Prime Minister @ediramaal. I will discuss Albania's engagement in the @OSCE regarding the Belarus crisis and the upcoming membership of Albania in the @UN Security Council. pic.twitter.com/6Fl83II1GQ

— Sviatlana Tsikhanouskaya (@Tsihanouskaya) September 28, 2021
Tsikhanouskaya is a Belarusian activist and politician who ran in the 2020 Belarusian presidential election as the main opposition candidate to the incumbent Alexander Lukashenko.
Prior to political life, she was an English teacher and interpreter. Her husband is a blogger and pro-democracy activist Sergei Tikhanovsky who was arrested in May 2020. Following his arrest, she announced her intention to run as a presidential candidate in his place.
She vowed to free all political prisoners, introduce wide-sweeping democratic reforms, and move away from treaties with Russia. Other plans included a referendum on reverting to the 1994 version of the constitution and a limit of two terms for presidents.
The night before the election, police arrested senior members of her campaign team. She chose to hide in Minsk before appearing on election day at a polling booth. Following the elections, which are widely believed to have been rigged, she filed a complaint with the Central Election Commission.
This move saw her arrested and detained for seven hours. After her release, she fled to Lithuania in fear of her life as well as repercussions that could impact her children.
The official outcome of the presidential election was 10.12% to Tshikhanouskaya and 80.10% to Lukashenko although allegations of widespread fraud and manipulation have been brought to light. She is widely believed to be the real winner of the election.
Following the results, Belarus plunged into turmoil, with thousands being imprisoned and protestors took to the streets. Matters reached boiling point when a RyanAir flight carrying a Belarusian activist and journalist was hijacked in Minsk, and he was imprisoned.