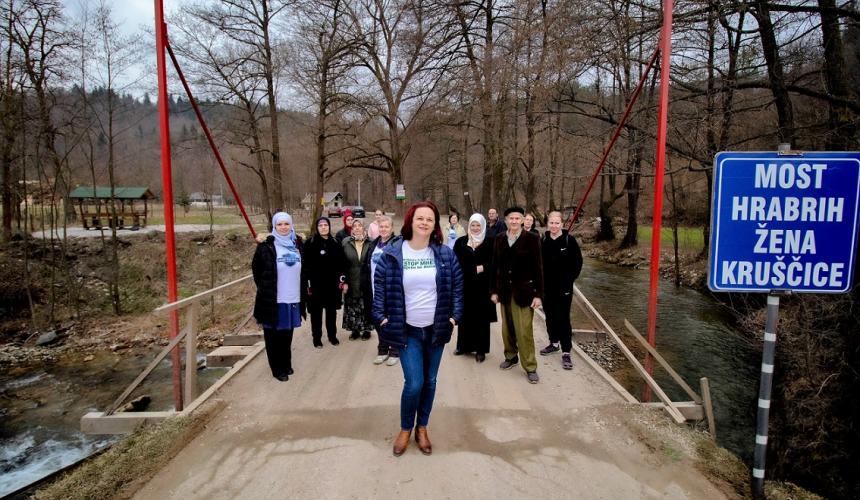 A group of Bosnian women have received the 2021 Goldman Environmental Prize for defending the Kruscica river from hydropower plant developers.
The prize endowed with $200,000 was awarded to Maida Bilal on behalf of a group of female residents from the village of Kruscica in Bosnia and Herzegovina. The women occupied the bridge for 503 days and nights to prevent developers from moving in.
They remained on the bridge despite the long, cold winter, and several violent eviction attempts from the police.
Their persistence resulted in the prevention of two hydropower plants on the stretch of the river.
The Goldman jury decided to award the women due to their bravery and also because "hydropower isn't green, and is one of the greatest threats to wild rivers and the people living along their banks."
This conservation prize has been awarded each year since 1990 to environmental heroes in grassroots movements. One prize is given to a person from Europe, Africa, Asia, Islands and Island States, North America and South and Central America.
Environmental organization EuroNatur had previously recognized the women's efforts with a 2019 EuroNatur Price.
Executive Director of EuroNatur, Gabriel Schwaderer said:
"The commitment of these courageous women to their natural livelihoods is exemplary. I am delighted that the EuroNatur laureates will attract international attention with the awarding of the Goldman Prize, the so-called 'Green Nobel Prize'".
This is the second time in three years that the Goldman award has gone to those fighting against HPPs in the Balkans. In 2012, Ana Colovic Lesoska from North Macedonia received it for campaigning against dam projects in the country.
Ulrich Eichlemann, the CEO of Riverwatch, added:
"This is, as far as I know, a novelty and an extraordinary motivation for all those who stand up for the Blue Heart of Europe. It is also a political signal to the governments of the region as well as to the EU, financial institutions, and banks to keep their hands off Balkan rivers."
Both EuroNatur and Riverwatch are instrumental in the campaign against HPPs in the Balkans, which are threatening precious rivers and ecosystems. There are more than 3500 HPPs planned which, asides from not being green or sustainable, would cause untold and irreversible damage to the environment and the surrounding communities.