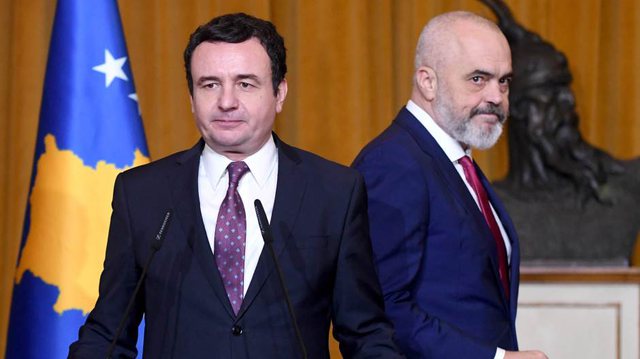 Kosovo Prime Minister Albin Kurti has put forth a proposal for a free trade agreement between the 6 Western Balkan countries, in an effort to advance regional integration and support each country's path towards full membership in the European Union.
Kurti announced his proposal on Wednesday, after meeting with regional leaders at the WB6 Summit in Tirana.
"My proposal is [for the WB6] to pass from CEFTA to SEFTA," he said during a brief conversation with journalists, nodding at the Central European Free Trade Agreement where Kosovo is currently represented by the UN Mission in Kosovo, rather than its government. 
It is the latest addition to several proposals by regional leaders to unite the Western Balkans under a free trade area.
In fact, Kurti's suggestion comes a mere two years after Serbia—supported by Albania and North Macedonia—shared its plan for the creation of a Mini-Schengen area in the region.
Albania's close collaboration with Serbia on the matter led to a rift in the already shaky relationship between Kurti and the Albanian Prime Minister Edi Rama. 
It is reasonable to expect pushback from Serbia to a proposal by Kosovo for a region-wide free trade agreement, given that Serbia does not recognize Kosovo. Still, Serbia might not be the country's only roadblock, given Rama's past stance on the Kosovo and Serbia relationship. 
Seen in this light, Kurti's proposal is also a message to Edi Rama, a rather unsubtle nudge for Rama to step up and get serious about his support for Kosovo.
From CEFTA to Berlin 
There are crucial reasons why Kurti seeks to center Kosovo in discussions on a regional free trade agreement.
Currently, all six Western Balkan countries are signatories of CEFTA, along with Moldova. It was initially signed by Poland, Hungary, and Czechoslovakia in 1992, and later joined by Slovenia, Romania, Bulgaria, Croatia, that all rescinded their participation once they became EU members because of demands imposed by the union.
In Kosovo's case, however, the trade agreement was originally signed by the UN Mission in Kosovo in 2007, before the country declared independence, and UNMIK still represents Kosovo in related meetings. That obviously doesn't stand well with the country's leaders, as Kosovo has been an independent and sovereign country since 2008. 
Kurti's comment that CEFTA become SEFTA—i.e., the South-Eastern European Free Trade Agreement—is no mere rhetorical quip. In the past five years, efforts to create a free trade agreement in the region have intensified. But Kurti has legitimate reasons to be wary of what Kosovo's standing would be in such an agreement, given where these efforts originate from and how its one ally in the region has been behaving. 
In 2017, Serbia's President Aleksandar Vucic presented Austria with a proposal to establish a free trade market in the Western Balkans, that he described as "old Yugoslavia, plus Albania." Vucic commented that such an agreement would make Serbia "a bigger, more attractive market." He also specified that he had consulted prime ministers of Albania and Bosnia over this proposal.
Two years later, in 2019, Vucic, Rama and Macedonian Prime Minister Zaev launched the implementation of Vucic's proposal, which was named the "Balkan Mini-Schengen".
They invited Kosovo, Montenegro and Bosnia-Herzegovina to join. While the latter two sent representatives to meetings, albeit usually not their top leaders, Kosovo refused to join. Its leadership claimed in unison that the agreement would mostly benefit Serbia, and that any such initiative should be agreed by all WB countries before it is launched.
As talks about the Mini-Schengen gained traction, Kurti, who had recently won elections, had his first visit in Tirana, where he clashed with Rama over the Mini-Schengen, arguing that Kosovo had not even been consulted.
The clash exacerbated Kurti and Rama's already shaky relationship, given this latter's stance on a recent attempt by Kosovo President Hashi Thaçi for a controversial deal with Vucic at the expense of Kosovo's territorial integrity.
In fact, earlier in 2019, Vucic and Thaci lobbied the EU, the US, and regional countries to accept territorial swaps between Kosovo and Serbia as a way to settle their dispute.
Rama was accused in Albania and Kosovo of supporting Vucic's proposal, although he denied it, arguing that he would just support any solution agreed by the two sides, the EU, and US.
As Kurti prepared to come to power in 2019, his party and that of the then-Prime Minister Ramush Haradinaj vehemently opposed territorial swaps with Serbia as the way to get its recognition.
The Vucic-Thaci plan ultimately failed, and badly injured relations between the governments of Kosovo and Albania, particularly between Rama on one side, and Kurti and Haradinaj on the other.
The deterioration of relations between the two Kurti and Rama over territorial swaps and Mini-Schengen gradually led to the latter deciding to refuse to comment on anything related to Kurti or the Kosovo government, with the implied claim that the press always distorted his words.
The Mini-Schengen initiative was supported by the European Union, who saw it as fitting their objectives in the Berlin Process, an initiative launched by Germany to bring the WB countries closer and also monitor their progress towards EU accession.
Indeed, in 2019, Kurti called that the initiative for a "Mini-Schengen" be taken under the Berlin Process umbrella, where all WB6 would have equal opportunity to give their input. 
However, resistance by Kosovo and reluctance by Montenegro and Bosnia-Herzegovina prevented the initiators from achieving the results they had hoped for, despite the importance of a few meetings on the topic being overblown by local media.
As resistance to the project grew in Kosovo and Albania, Rama started to shift his narrative from the Mini-Schengen as a project he had co-led, to the initiative being merely a part of the Berlin Process. This shift in narrative was mentioned prominently in his speeches over the ensuing months.
In late 2020, again under the umbrella of the Berlin Process, the WB6 established the Common Regional Market (CRM), which seemed to be very similar to what Vucic and Rama had spearheaded so far with the Mini-Schengen. The CRM would foresee the implementation in the WB region of Europe's four freedoms: the movement of goods, persons, services and capital. In their first major related agreement, the countries removed roaming tariffs in the region.
The Road Ahead
It is clear that Kosovo is safer with a regional initiative regulated and monitored by the European Union instead of it being co-led by Serbia, which denies its existence as a sovereign country.
A free trade agreement under the umbrella of the Berlin Process has indeed the potential to bolster the newly established CRM, and would help enshrine Kosovo's status as equal to the other 5 countries.
Yesterday, Rama said that the name of the project was not important—be it Mini-Schengen, CRM, or something else—but the advancement of the four freedoms would be the foremost goal of any such agreement. Kurti instead cared to stress that the Mini-Schengen does not exist, and that there is only the CRM, under the Berlin Process.
In fact, Mini-Schengen was never anything more than an idea employed to boost Vucic and Rama's leadership image in the region. It never came to fruition on any substantial level beyond rhetoric. The CRM, on the other hand, was signed by all WB countries.
While Vucic could be justified if he does not support a proposal by a country Serbia considers part of its territory, Rama has a good opportunity to cooperate with Kurti in advancing Kosovo's proposal for a SEFTA agreement to be signed under the Berlin Process and in the framework of the CRM.
The proposal is compatible with Rama's and EU's objectives for regional integration, and it means Kosovo would be treated as an equal country, i.e., not represented by UNMIK, as it currently is under CEFTA.
Moreover, it could be a great opportunity to thaw the ice between Rama and Kurti, and set the stage for productive collaboration in the next 4 years.