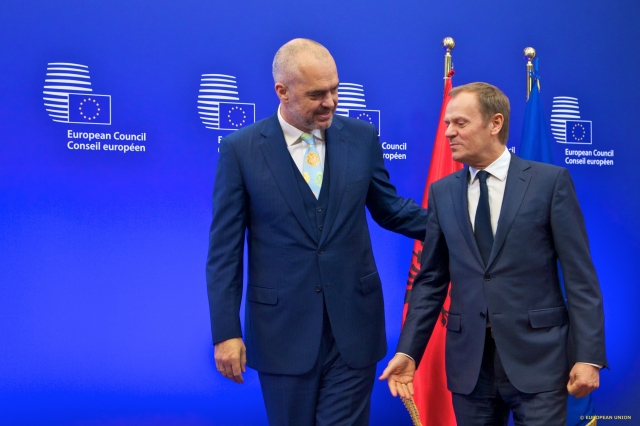 The President of the European Council Donald Tusk called on the EU leaders to support the opening of accession talks with North Macedonia and Albania during visits to both countries today.
Tusk met Prime Minister Zoran Zaev today in Skopje, where he praised the country for finding a "solution to the dramatic political crisis," for signing the Prespa Agreement with Greece and the Friendship Treaty with Bulgaria, and for managing "one of the biggest migration crises" in Europe after the WWII.
That is also why I came to North Macedonia today. I wish to make it crystal clear: there is no doubt in Brussels about your political commitment to the rule of law and to fighting corruption.
[…]
Skopje is the best possible place where I would like to appeal to the leaders of the European Union: Now you do your share. Because North Macedonia has already done its share.
Tusk then met Albania's Prime Minister Edi Rama in Tirana, who awarded him a medal in recognition of president's support of Albania in its European integration process.
In terms of Albania's achievements Tusk said the country has come closer to the EU during the last year. In contrast to his speech in North Macedonia, Tusk avoided mentioning specific successes of the Albanian government.
He later added that it is important for Albania to "maintain a solid track record as regards the rule of law and the fight against corruption and organised crime".
Tusk supported the opening of accession talks between the EU and Albania in October, underlining that this was "in the best interest of the whole of Europe".
"Because there will be no stable and safe Europe without the integration of all the Balkans in the EU. What is at stake is our common future. And no one is doing anyone any favors here."