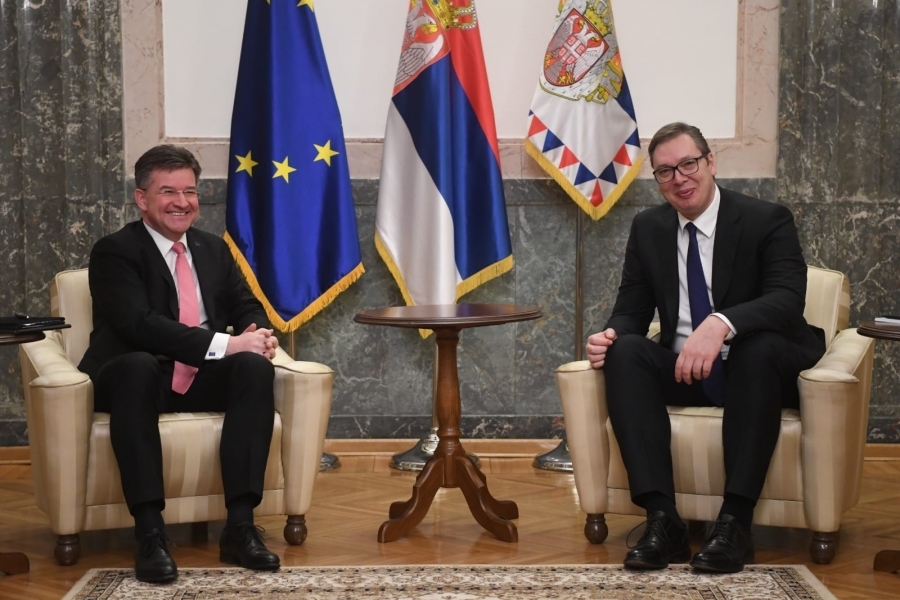 The EU Special Envoy for Prishtina-Belgrade dialogue, Miroslav Lajcak, continued his visit in Belgrade after meeting Kosovo state officials and the European Union member states' representatives.
Lajcak met the Serbian president, Aleksandar Vucic on Wednesday and said that the EU is not interested in maintaining a status quo, adding that such a thing is not tenable for either party.
He stated that his visit that started in Kosovo is aimed at informing both parties about the details of the process as well as the progress made since the resumption of the dialogue.
"Dialogue is of key importance for Kosovo's and Serbia's European aspirations and the EU expects its continuation," Lajcak said.
He noted that "Serbia has already made significant progress on the path to European integration" and that dialogue is key to further progress towards EU membership.
"In Belgrade, I had a constructive and interesting conversation with president Vucic. We spoke about the importance of the Dialogue for both Serbia and Kosovo. And I welcomed his commitment and readiness to come to Brussels whenever invited," wrote the EU representative on Twitter.
Vucic reiterated official Belgrade's stand that Serbia is committed to the dialogue to normalize relations with Prishtina and is ready to continue it "at any moment when it is invited to Brussels", N1 reports.
"Serbia supports Miroslav Lajcak's efforts to find a solution through a compromise which would mean the dissatisfaction or partial satisfaction of both sides without any ultimatum and imposed solutions," he added.
After meeting Vetevendosje's leader, Albin Kurti which won the parliamentary elections in Kosovo, Lajcak said that he expects a comprehensive agreement between the two countries to be reached within his governing mandate.
"I have said in the past and I want to repeat: this process can be completed within several months," he said.