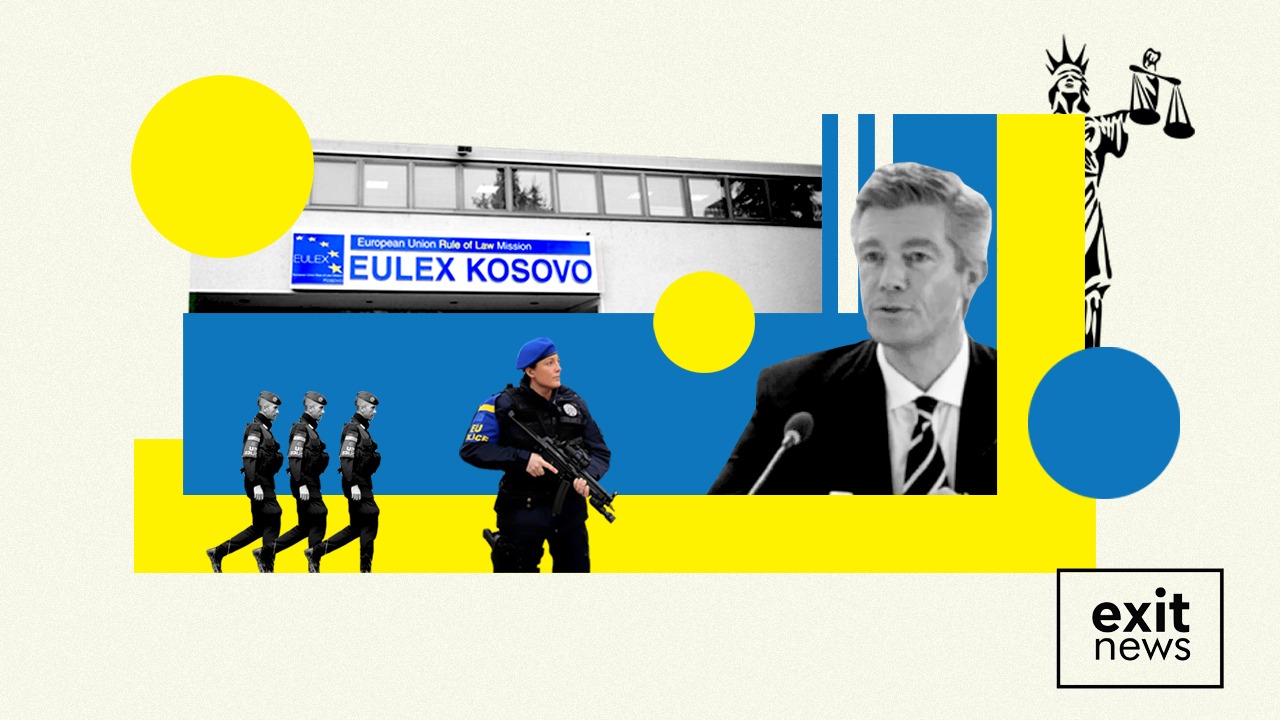 Former head judge of the European Union Rule of Law Mission in Kosovo (EULEX), Malcom Simmons, claims that the mission handed over dozens of war crimes files to Serbian prosecution authorities.
In the statement Simmons would give if invited by the Parliament of Kosovo for an inquiry into his claims, he says that prior to him being appointed President of EULEX Judges in 2014, he was aware of discussions within the mission regarding the transfer of files to prosecution authorities in Serbia. He mentions also being aware of "ongoing" discussions between EULEX prosecutors and prosecutors in Serbia.
"These were investigations into alleged atrocities committed by persons of Serbian ethnicity during the conflict. Those files contained not only details of the alleged offences and perpetrators but included the personal data of Kosovo citizens who were the victims of these crimes and details of witnesses most of whom were of Kosovo Albanian ethnicity," Simmons claims in his statement seen by Exit News.
He says that those files were the ones EULEX had received from the United Nations Mission in Kosovo, UNMIK.
"These were offences committed in Kosovo against citizens of Kosovo by persons of Serbian ethnicity, many of whom were also citizens of Kosovo," he specifies.
Simmons told Exit News that he asked senior management of EULEX to explain the legal basis for the transfer of these files. He had also requested a list of the cases that had been handed over.
"My request was refused," he said.
Exit News asked EULEX if war crimes files were transferred to Serbian authorities and if so, how many. However, despite repeated requests, Exit News did not receive any comment by EULEX on Simmons' claims at the time of publishing.
"When I discussed this issue with senior EULEX management it became clear they knew the Serbian authorities did not have the resources –or, indeed, the will to investigate these crimes," Simmons maintains.
He adds that EULEX knew that it was unlikely these cases would ever be investigated–regardless of what resources were available.
"As I understand it, the Serbian authorities have failed to prosecute any of the cases handed over by EULEX," he contends.
Due to the absence of an extradition agreement between Kosovo and Serbia, Simmons says that "it was obvious the EU wished to avoid a messy confrontation with Serbia regarding the extradition of defendants of Serbian ethnicity at a time when it was seeking to normalize relations between the two countries."
"The solution, it appeared, was simply to have the Serbian authorities deal with those cases, something it knew they had no capacity or intention of doing," Simmons says.
Malcolm Simmons sent a summary of his claims to Kosovo's Prime Minister, Albin Kurti earlier this month.
Simmons claims that the cases EULEX  heard against former Kosovo Liberation Army (KLA) members were subject to political interference.
While waiting for the Kosovo Parliament to schedule a hearing on his claims against EULEX, Simmons talked to Exit News in May, claiming that Charles Smith, former President of the Assembly of EULEX judges, based his decision-making on political considerations.