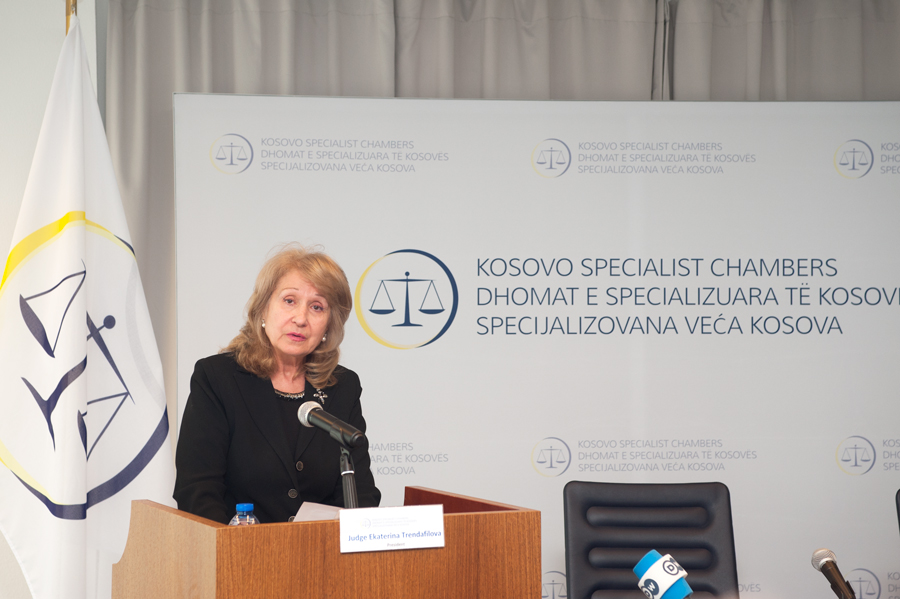 The head of the Kosovo Specialist Chambers (KSC) set to investigate war crimes allegedly committed during the war in Kosovo, has told the EU diplomats that the court is facing attempts to undermine its work.
Radio Free Europe reported that the Chambers' President, Ekaterina Trendafilova warned the diplomats in a confidential briefing that these efforts "have not stopped and will likely increase in various forms as the court proceedings take place."
The efforts include attempts to challenge the law that established the court in 2015, including efforts to amend it to allow the pardon of anyone convicted or a relocation to Kosovo.
"This certainly will put at stake the life, safety, and security of people who have or will be willing to cooperate with us," Trendafilova said, according to a transcript of the meeting seen by Radio Free Europe.
"Such changes would certainly have a chilling effect on witnesses, who may no longer want to appear, thus making it impossible for the special prosecutor to continue with his cases."
Trendafilova did not elaborate on who was behind the efforts or say how the changes would be implemented, but she urged EU diplomats to help fight back against the efforts.
A transcript of the briefing, which took place on February 11, was first obtained by Euronews.
Kosovo Specialist Chambers (KSC) and the Specialist Prosecutor's Office (SPO) were established in 2015 by voting in the Parliament of Kosovo. The Chambers operates under Kosovo law but it is based in The Netherlands and has an international staff.
Among those facing war crimes indictment by now are also the former President of Kosovo, Hashim Thaci, former Parliament speakers Kadri Veseli and Jakup Krasniqi, and the former MP, Rexhep Selimi.
Four of them were transferred to The Hague in November 2020, while are waiting for the trial to begin.
Thaci, Veseli, Selimi, and Krasniqi were members of the KLA headquarters.
The charges against them consist of six counts of crimes against humanity, namely: persecution, imprisonment, other inhumane acts, torture, murder and enforced disappearance of persons. And four counts of war crimes, namely: arbitrary detention, cruel treatment, torture, and murder.
Trendafilova, who is Bulgarian, also urged European countries to consider agreements that could allow witnesses and their families to be relocated to Europe.
"Without these agreements, it will be very difficult if not impossible in some cases to ensure that testimony can be given freely and without any fear," Trendafilova said.