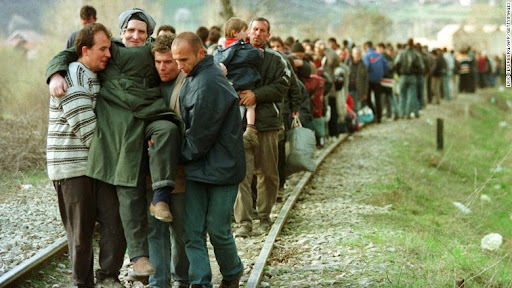 On Tuesday, a Prishtina court sentenced Goran Stanišić to 20 years in prison for war crimes against civilians.
Judge Valon Kurtaj found Stanišić guilty of participating in the murder of 13 Albanian civilians in the Sllovi and Terbovc villages on April 15-16, 1999, during the Kosovo War.
Stanišić, then a reservist police officer who was called on duty by the Serbian regime of Slobodan Milosevic, was part of a group of other unidentified Serb policemen and paramilitary troops deployed to kill and deport Kosovo Albanian civilians from Sllovi and Terbovc, near the city of Lipjan.
On April 15, 1999, Stanišić and others entered the yard of a house in Sllovi, ordered the family to get out, separated men from women, put the five men against the wall of their house and killed them with machine guns. The women were then commanded to leave.
On the same day, they stopped their vehicle and machine-gunned four members of another family in their own yard. One was killed on the spot, and the other three managed to run away amidst raining bullets.
Serb policemen and paramilitary, including Stanišić, had then separated six more Albanians from the fleeing group of villagers, pushed them against a wall and killed them all.
On April 16, 1999, they shot two other Albanians who were trying to flee, one of whom died on the spot, while the second one survived, and was found by villagers the next day.
Serbia killed at least 8,676 Albanian civilians, expelled nearly half of the roughly 2 million population to neighboring countries, and several hundreds of thousands more were internally displaced. Its troops raped over 20,000 Albanian women and destroyed nearly 40 percent of houses in Kosovo.
More than 22 years since the war ended in 1999, over 1,600 Albanians are still missing.
Goran Stanišić has the right to appeal the sentence.