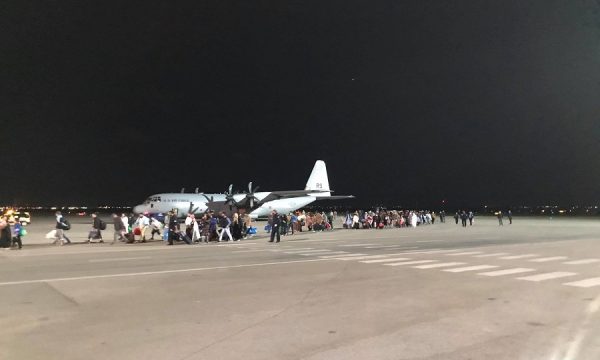 The first group of 111 Afghan refugees arrived in Kosovo on Sunday, following the US military withdrawal and the taking over by the Taliban.
They will be accommodated in Kosovo's US military base Camp Bondsteel in Ferizaj.
Kosovo's President Vjosa Osmani and Prime Minister Albin Kurti welcomed the refugees at the Airport of Pristina. They expressed their full support to assist them, and thanked the US and NATO for facilitating the operation.
"More than 22 years ago, NATO embarked on a humanitarian intervention to stop the genocide against us, and now we are welcoming the [Afghan] refugees," Kurti told the media today.
Kosovo is expected to receive a total of 2,000 refugees who worked in Afghanistan with NATO forces or foreign organizations. More refugees are expected to arrive tomorrow, Minister of Interior Xhelal Svecla said on Sunday.
The length of their stay will depend on procedures to provide them with necessary papers for long-term residence in the United States.
The governments of Kosovo and Albania were among the first to offer receiving Afghan refugees whose life is danger in their country. Albania has so far received 457 refugees, and the number is expected to rise to 4,000.