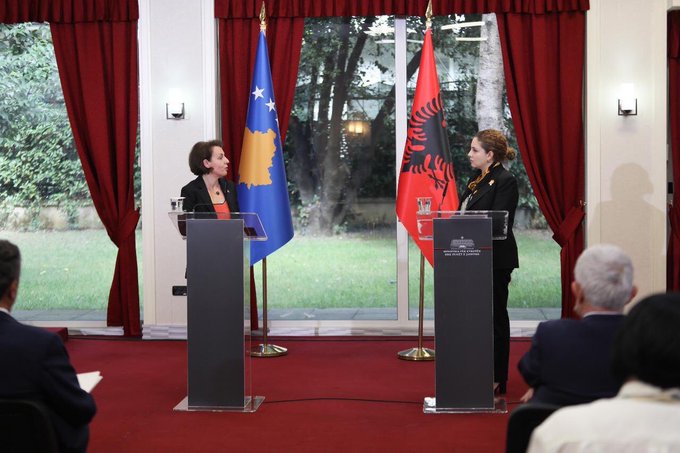 On Monday, Kosovo's top diplomat Donika Gërvalla-Schwarz urged her Albania counterpart Olta Xhaçka and other regional countries to counter Serbia's possible threats to stability and security in the Western Balkans.
The foreign minister met with Albanian President Ilir Meta, speaker of Parliament Lindita Nikolla, and foreign minister Olta Xhaçka during a one-day visit in Tirana on Monday.
 In a press conference with Xhaçka, Gërvalla-Schwarz said that countries in the region should coordinate against Serbia's attempts to escalate tensions with its neighbors.
"Our northern neighbor, Serbia has toughened its stance in the recent weeks and months, not only towards Kosovo, but also against Montenegro and Bosnia. We must be aware and very careful in strengthening this fragile peace that we have in the region, and for us altogether not to disturb the peace and stability in our region. We need better coordination of the five countries of the region towards Serbia and a more substantial cooperation in all regional processes," Gërvalla-Schwarz stated.
The statement comes after Serbia sent military vehicles and fighter jets near the border with Kosovo over a tax imposed by Prishtina to reciprocate the same measure applied by Belgrade.
Montenegro and Bosnia are also concerned about Serbia's interference in their internal politics and societies.
On the other hand, Albania and Serbia have strengthened their relations. Together with North Macedonia, they have set to establish a free trade area between the three countries, the "Open Balkan." Despite invitations to join, Kosovo, Bosnia and Montenegro have refused, citing their focus on European integration.
Kosovo's top diplomat stressed the need for regional cooperation to be continued under the European Union's Berlin Process, where the six countries have signed an agreement to advance the Common Regional Market—a similar but much wider initiative than the Open Balkan.
Kosovo's request to Albania for closer collaboration to confront Serbia's growing threat to Balkan security comes after Albania's speaker of parliament vowed to actively support Prishtina in denouncing the crimes Serbia committed in Kosovo, during the 1998-99 war.