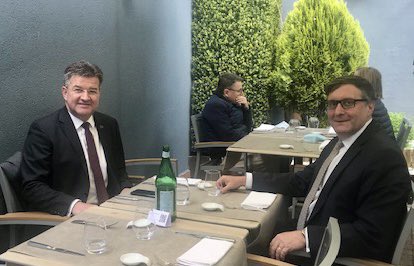 The EU Special Representative for the Belgrade-Prishtina Dialogue, Miroslav Lajčák and the US Deputy Assistant Secretary of State, Matthew A. Palmer are staying in Kosovo for a two-day working visit on Monday and Tuesday.
The European Union Office in Kosovo announced that Lajčák will meet with President Vjosa Osmani, Prime Minister Albin Kurti, First Deputy Prime Minister for European Integration, Development and Dialogue Besnik Bislimi, Second Deputy Prime Minister and Minister of Foreign Affairs and Diaspora Gërvalla-Schwarz.
He will also meet the international community in Kosovo and address the EU Heads of Missions.
Lajčák and Palmer are visiting Kosovo ahead of the first meeting between Kurti and the Serbian President, Aleksandar Vucic planned to take place in mid-June in Brussels.
According Kurti, they will discuss on how to proceed further with the dialogue on normalization of relations with Serbia.
Before traveling to Kosovo, Lajčák received Palmer in Brussels on May 26.
"It comes as no surprise that we spoke about the Western Balkans and the Dialogue," Lajčák wrote in a Twitter post after the meeting.
Lajčák and Palmer will address media on Tuesday.