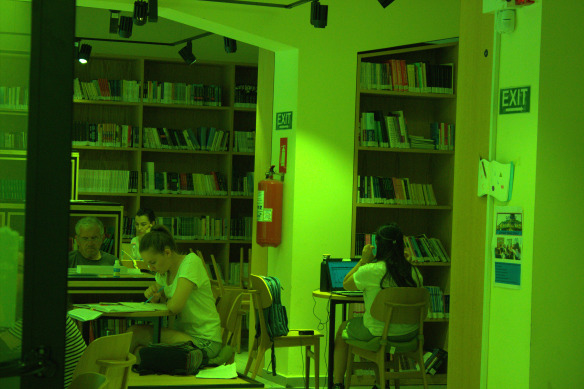 Tirana's population and high-rise buildings have multiplied, but in the last three decades no new libraries have been built in the city.
Out of 8 public libraries, also known as neighborhood libraries, 4 of them have been reconstructed by the municipality in the last three years, whereas 3 others are in the process of being reconstructed.
Not every administrative unit within the municipality's territory is equipped with its own library.
For example, in 3 of Tirana's administrative units (number 1,3, and 5) that include 182 thousand inhabitants, there are no public libraries.
ABC Tirana Club, a local student center, recently conducted a survey and analysis of the capital's libraries and their performance. It found several issues, including the lack of online information and communication, the lack of regular acquisitions and the acquisition of books that attract readership, and the lack of physical or virtual registries that patrons can use to view the titles available. Additionally, electronic devices available for use are either out of function or entirely inexistent. Issues with the heating, cooling, and lighting systems often make reading rooms uncomfortable for patrons. More qualified personnel, and maintenance staff, is needed.
During 2017-2019, the Tirana municipality invested approximately €188,000 for the reconstruction of 7 libraries.
However, ABC Tirana Club reports that "the investment made for their modernization is insufficient," and that "libraries' floor space is limited to about 65-90 square meters, the same space as a residential apartment."
With no virtual services, they seem even smaller in the face of increasing demand on the part of citizens, especially students, the survey's authors claim. They are convinced that Albania's 100-years-old capital needs new libraries.
The Tirana municipality administration, alongside the Municipal Council, must pay increased attention and increase funding for neighborhood libraries.
The existing ones must meet citizens' demands, rise to meet technological development trends and the wide-scale spread of internet use, and offer as many virtual and online services as possible, ABC Tirana Club activists said.
Discussion sessions with interest groups, as well as a information and awareness campaign, will take place within the framework of the student project titled "My Neighborhood Library," supported by Lëviz Albania and funded by the Swiss Agency for Development and Cooperation (SDC).