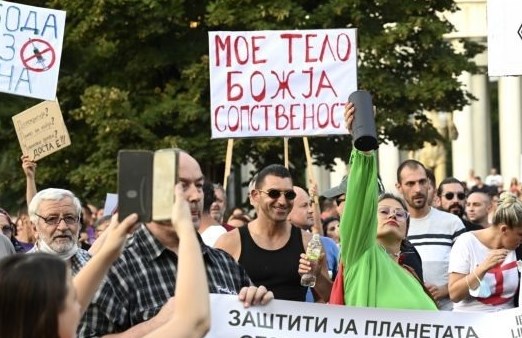 On Sunday, people in Skopje, the capital of North Macedonia, protested the Macedonian government's new anti-COVID-19 measures.
Protesters marched from Parliament to the Prime Minister's Office, displaying banners asking for an end to "forced vaccination."
Starting August 16th, those wishing to access outdoor events or spaces with more than 30 people will need to provide proof they have received at least one dose of the vaccine.
Furthermore, all indoor activities taking place in restaurants and nightclubs or other large venues will be banned. Facilities will be allowed to host outdoor events at 50% capacity.
Macedonian authorities said these new measures are necessary to curb infections without requiring the country to go back to full lockdown.
Last week, neighboring Kosovo approved similar restrictions for unvaccinated people.