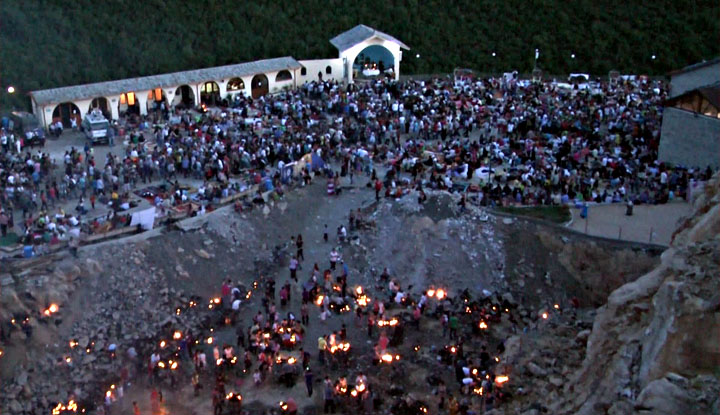 Thousands of people joined the annual pilgrimage to St. Anthony Church in Laç, known locally as the Laç Church or "Shna Ndou," a holy site where people gather every year to celebrate Saint Anthony of Padua.
Believers, regardless of their denomination and religion, walk up the mountain where the famous catholic church of Laç is located, and pray to God for better health for their families and relatives. Many of the devout believe in the healing properties and miraculous power of this religious site.
Given that a good portion of those participating in the pilgrimage are Muslim, the rites and rituals of this process are taken as proof of Albania's religious tolerance.
The pilgrimage ritual concluded on Sunday, June 13 when thousands of believers and non-believers performed their last prayers. The pilgrimage is the last in a long process that begins in mid-March and asks that believers visit the church for 13 holy Tuesdays in a row to pay their respects.
This year's pilgrimage was accompanied by numerous police officers, and there was even a group of doctors on standby for any emergency.
US Ambassador to Tirana, Yuri Kim also visited the church on Sunday, joining thousands of Albanians.
Yuri Kim wrote on social media that she could never have imagined that one day she would find Anthony of Padua in Albania. Kim added in the end a prayer for everyone, "May St. Anthony help us find what has been lost."
People reported that there has been a lot of traffic and extended hours to get to the town of Laç because of the event.
This year, even though pandemic restrictions on large gatherings still technically apply, the number of believers who participated in the pilgrimage was very high. And despite the situation created by COVID-19 pandemic, the representatives of Catholic Church said that people have shown loyalty to this holy place.