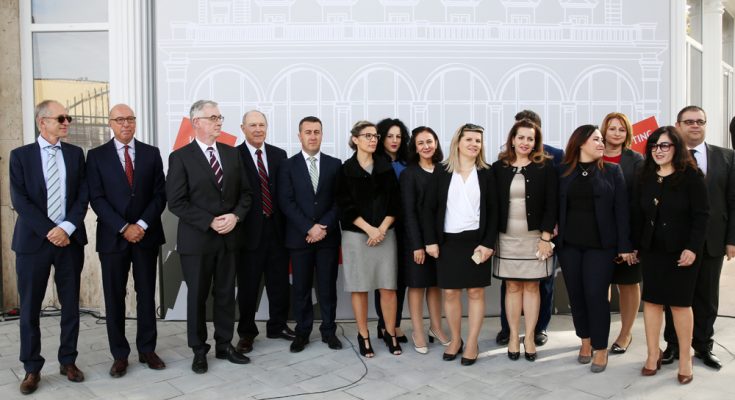 Although it is unclear what has happened to the vetting of the 8 judges and 4 prosecutors that the Independent Qualification Commission started in November, the KPK has announced a new list of 57 judges and prosecutors that will be vetted. As Reporter reported in December, the KPK is failing to follow the transparency standards set by the Albanian law, and still hasn't appointed a media coordinator, a vacancy for which was only opened after the Reporter story was published
All magistrates selected for this new batch belong to the High Court, Constitutional Court, or have applied for a position at the High Prosecutorial Council (KLP), High Judicial Council (KLGj), Council for Judicial Nominations (KED), and the High Judicial Inspectorate (ILD). KLP and KLGj candidates need to pass the vetting before Parliament can vote on them.
The list of magistrates includes several figures who have featured in the recent upheavals in the Prosecution Office, including former Prosecutor General Adriatik Llalla, Temporary Prosecutor General Arta Marku, and Prosecutor Rovena Gashi.
Altina Xhoxhaj – Constitutional Court (Candidate for Council of Judicial Nominations)
Bashkim Dedja – Constitutional Court
Besnik Imeraj – Constitutional Court (Candidate for Council of Judicial Nominations)
Fatmir Hoxha – Constitutional Court
Fatos Lulo – Constitutional Court
Gani Dizdari – Constitutional Court
Vitore Tusha – Constitutional Court
Xhezair Zaganjori – High Court
Adriatik Lalla – former Prosecutor General
Alma Brati – Court Tirana (Candidate for the KLGj)
Artan Laze – Court Tirana (Candidate for the KLGj)
Artan Zeneli – High Court (Candidate for the KLGj)
Astrit Faqolli – Court Tirana (Candidate for the KLGj)
Besim Trezhnjeva – Appeals Court Durrës (Candidate for the KLGj)
Bledar Abdullai – Court Tirana (Candidate for the KLGj)
Brunilda Kadi – Court Tirana (Candidate for the KLGj)
Brunilda Kasmi – Court Tirana (Candidate for the KLGj)
Dritan Hallunaj – Serious Crimes Court (Candidate for the KLGj)
Ilir Toska – Appeals Court Tirana (Candidate for the KLGj)
Manjola Xhaxho – Court Tirana (Candidate for the KLGj)
Marcela Shehu – Court Kurbin (Candidate for the KLGj)
Medi Bici – High Court (Candidate for the KLGj)
Nertina Kosova – Serious Crimes Appeals Court (Candidate for the KLGj)
Adriatik Cama – Prosecution Tirana (Candidate for the KLP)
Anila Leka – Prosecution Office (Candidate for the KLP)
Antoneta Sevdari – Prosecution Tirana (Candidate for the KLP)
Arben Dopallaj – Appeals Prosecutor Shkodra (Candidate for the KLP)
Arben Nelaj – Prosecution Tirana (Candidate for the KLP)
Arta Marku – Temporary Prosecutor General (Candidate for the KLP)
Besa Nikehasani – Appeals Prosecution Shkodra (Candidate for the KLP)
Besnik Cani – Prosecution Elbasan (Candidate for the KLP)
Besnik Muci – Serious Crimes Prosecution (Candidate for the KLP)
Bujar Hoti – Prosecution Durrës (Candidate for the KLP)
Dritan Prenci – Prosecution Kukës (Candidate for the KLP)
Dritan Rreshka – Prosecution Tirana (Candidate for the KLP)
Elison Sadiku – Prosecution Korça (Candidate for the KLP)
Gentjan Osmani – Serious Crimes Prosecution (Candidate for the KLP)
Kostaq Beluri – Prosecution Office (Candidate for the KLP)
Luan Kaloçi – Appeals Prosecution Tirana (Candidate for the KLP)
Ramadan Troci – Prosecution Office (Candidate for the KLP)
Shpëtim Kurti – Prosecution Tirana (Candidate for the KLP)
Vat Staka – Prosecution Shkodra (Candidate for the KLP)
Brikena Ukperaj Lubonja – Appeals Court Vlora (Candidate for the KED)
Ervin Metalla – Appeals Court Tirana (Candidate for the KED)
Fatjona Memçaj – Appeals Prosecution Tirana (Candidate for the KED)
Gentjan Medja – Administrative Court Tirana (Candidate for the KED)
Gentjan Trenova – Appeals Prosecution Tirana (Candidate for the KED)
Kastriot Selita – Administrative Appeals Court (Candidate for the KED)
Rovena Gashi – Prosecution Office (Candidate for the KED)
Admir Thanza – High Court
Ardian Dvorani – High Court
Artan Broci – High Court
Edmond Islamaj – High Court
Shkëlzen Selimi – High Court
Tom Ndreca – High Court
Artur Malaj – Administrative Appeals Court (Candidate for the ILD)
Marside Xhaferllari – High Judicial Inspectorate (Candidate for the ILD)