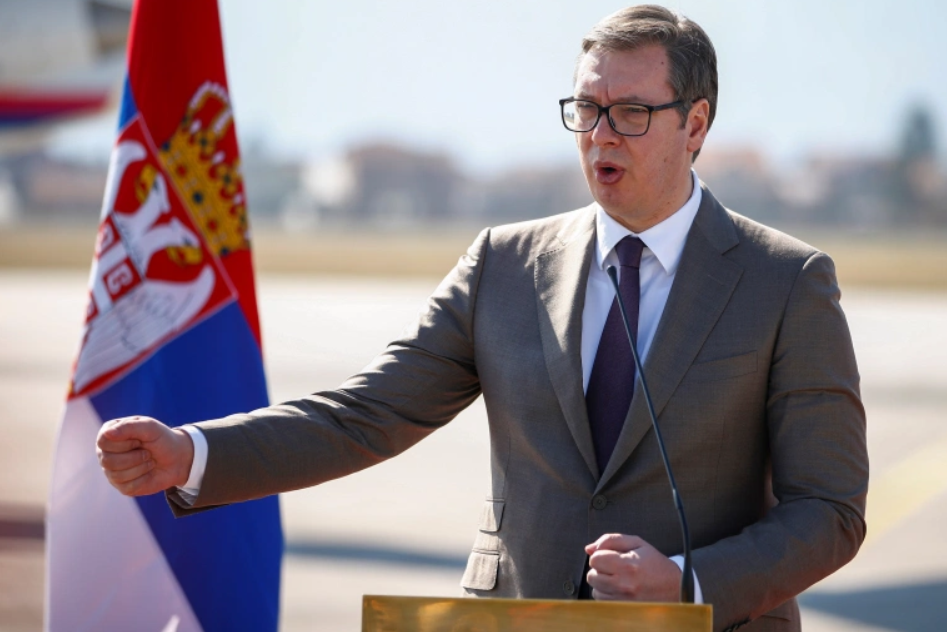 The planned visit of Russian Foreign Minister Sergey Lavrov to Belgrade announced for 7 June by the media is becoming complicated, particularly when it comes to how he will arrive, Serbian President Aleksandar Vučić said on Thursday.
Asked by Pink TV in Bratislava about Lavrov's upcoming visit, Vucic replied: "It is, certainly, it is getting complicated. I am not yet prepared to speak about it, but – yes, it is getting complicated… the question is how he will arrive… we shall see."
Asked about German Chancellor Olaf Scholz's visit to Belgrade planned for 10, Vucic said "it would be a tragedy" if he did not come.
"Imagine the German chancellor being scheduled to visit a country and then saying that he does not want to or cannot visit," he said. Asked about Scholz possibly not visiting Belgrade, Vucic said this might well happen, though he hoped it would not. "There is always a possibility, but I hope that it will not happen. We'll see… first if Lavrov comes and then we'll see… but there are also reactions from other countries," Vučić said.
Speaking at the GLOBSEC 2022 forum, Vučić said  Serbia was working with the EU on diversifying the gas supply and that the Trans-Adriatic (TAP) and Trans-Anatolian (TANAP) gas pipelines were being considered as sources.
Serbia has always been fully dependent on Russian gas and is working with the EU on a strategy for diversifying sources, the president also said.
"We are doing all we can to diversify the energy supply. I had a good meeting this morning with (European Commission Vice-President) Maros Sefcovic here and we will make a new strategy with the EU, to see how we can get the gas from the TAP and TANAP pipelines in the future," said Vučić, noting that Serbia needs interconnectors with Bulgaria and North Macedonia to achieve that.
Serbia's "main strategic goal" consists in joining the EU, Vučić also said. "We have some specific issues that we have to solve, including the issue of Kosovo, which we view differently than some EU countries," said Serbia's president who also met with the EU's special representative for the Belgrade-Priština dialogue, Miroslav Lajčak.
On the war in Ukraine, Vučić said that Serbia was not aligned with Russia, saying it had clearly condemned the attack on Ukraine in a "legal and political way."
While he acknowledged that Serbia had not yet imposed sanctions against Russia, other countries had to understand Serbia's position, which had so far enjoyed the support of Russia and China on the issue of Kosovo.