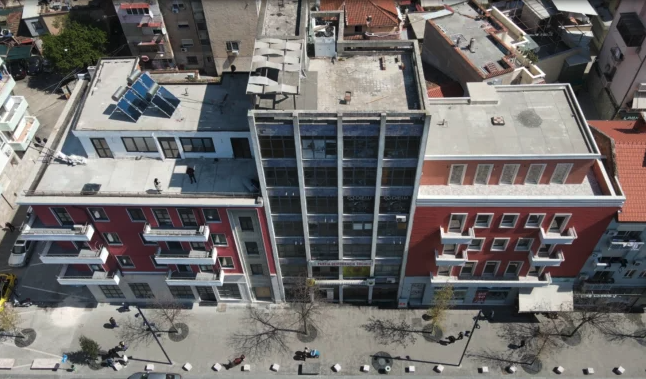 The Albanian government has begun demolishing a Tirana cultural monument designed by renowned architect Maks Velothat that used to be home to the Albanian Telegraphic Agency.
Spanning seven floors, the edifice was built in 1976 and designated a Category II Cultural Monument in 2007.
Earlier this month, the Ministry of Infrastructure had begun expropriating residents of the area, stating that the building would be restructured.
But the reconstruction of the facade does not tie into the plans put forward for the area, leading some to doubt if this will indeed be the case. Furthermore, the Municipality has previously claimed the build was damaged by the earthquake and must be demolished. The "reconstruction of the facade" phrase was also used to describe the eventual demolition of the Queen Geraldine Maternity Hospital in the middle of the night earlier this year.
Earlier this year, through a collaborative investigation between Citizens Channel and Exit News, it was revealed that the Municipality is planning to demolish the building. Mayor Erion Veliaj then confirmed this during a Facebook Live video with Prime Minister Edi Rama.
"This building will be demolished, just like the Maternity Hospital, the famous 'seven-story building' of the Municipality," he said.
Despite the building being a Cultural Monument since 2007, the Municipality of Tirana received permission from the Construction Institute to demolish it, due to damages caused by the November 2019 earthquake. This is the same argument that was used to demolish the National Theater and large swathes of the Kombinat area. This latter's demolition is the subject of an ongoing court case, where residents are fighting to keep their homes and prevent their entire community from being privatized.
The "reconstruction" is going forward even though foreign experts are reported to have declared it safe. Furthermore, the original project engineer Orhan Sakiqi has expressed his confidence in its safety on multiple occasions.
The documents show that the building is part of a tender of 30 million euros and is included in the list of 14 educational facilities to be built in Tirana as part of the post-Earthquake reconstruction program. The problem is that the building will not be used as an educational facility.
According to the design plan, a facility for public administration offices will be built in its stead.
Local residents fear that the demolition of the Velo building will also lead to the demolition of a building on its left to make way for a 30-story construction in its place. In fact, it's believed the project in question will cover a plot of up to 2,000 square meters, but the former-ATSH building covers just 225 square meters, increasing fears that other nearby properties will also be demolished.
Another issue is that the City Council's decision to demolish the building was dated November 2020. Yet, the procurement documents for the new project are dated March and August 2019, a full twenty months before the earthquake that has supposedly rendered the building unsafe.