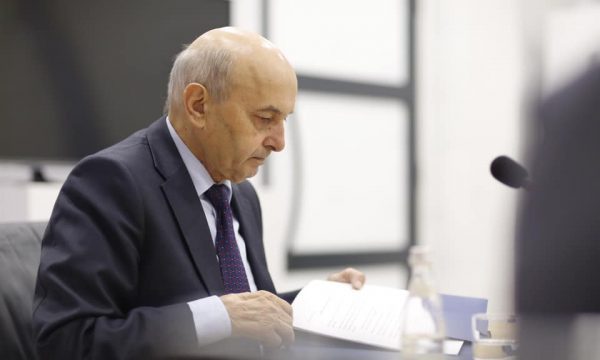 Isa Mustafa who led the Democratic League of Kosovo (LDK) until Monday said that the reason why LDK received a big decrease in the number of votes, is because it broke the coalition with Vetevendosje.
Mustafa resigned as the leader of LDK following the preliminary results of Sunday's election which showed his party received about 13% of the vote, while Vetevendosje had around 48%.
After securing only one parliament seat less than Vetevendosje in previous elections in October 2019, LDK entered the ruling coalition which soon crumbled. LDK and other political parties in Parliament voted out the government led by Vetevendosje's leader, Albin Kurti.
Despite seeing this event as "the price" for the weak results on Sunday's elections, Mustafa says that he would act in the same way again.
"I do not regret it, I would break the coalition today also," Mustafa wrote on Facebook.
"Between the United States of America and Vetevendosje, LDK has chosen the partnership with the US. Between the confrontation with the administration of President Trump and the Vetevendosje Movement, LDK has chosen to avoid any confrontation and aggravation of relations with the United States," Mustafa added.
Cracks in the coalition started to appear when Kurti did not take the advice of the US administration to immediately and unconditionally lift the 100% tariffs on Serbian goods imposed by the previous government, but proposed a plan to do it gradually, and impose reciprocity measures toward Serbia if the latter did not reciprocate.
After voting out Kurti's government, Kosovo's Parliament voted on the LDK-led government of Avdullah Hoti, in ruling coalition with the Alliance for the Future of Kosovo (AAK) on June 3.
"The Hoti government has repaired the damaged relations with the US by Kurti Government as well as the relations with the European Union […], has signed the Agreement for normalization of economic relations with Serbia in the White House, has successfully managed the COVID pandemic- both in terms of health and economy", Mustafa wrote on Facebook.
Mustafa said he does not expect the new government to give any results in ruling the country. According to him, this was evident at the pre-election debate of "Mr. Prime Minister (Albin Kurti) and Mrs. President (Vjosa Osmani)" which did not offer any answers on economic development for the future of Kosovo.
"I did not notice any answer but escape from the answers. Elementary lack of knowledge to govern," Mustafa wrote.
Vjosa Osmani was LDK's prime ministerial candidate in 2019, but joined Vetevendosje's list after serious disagreements with her party that came to a head when Kurti's government was voted out.
"Unlike some of my collaborators, I did not congratulate Vetevendosje Movement for its victory […] I find no reasons to congratulate those who voted LDK until yesterday that passed to Vetevendosje, because LDK does not give up on them. Because LDK does not surrender. It will come back even stronger," Mustafa wrote.