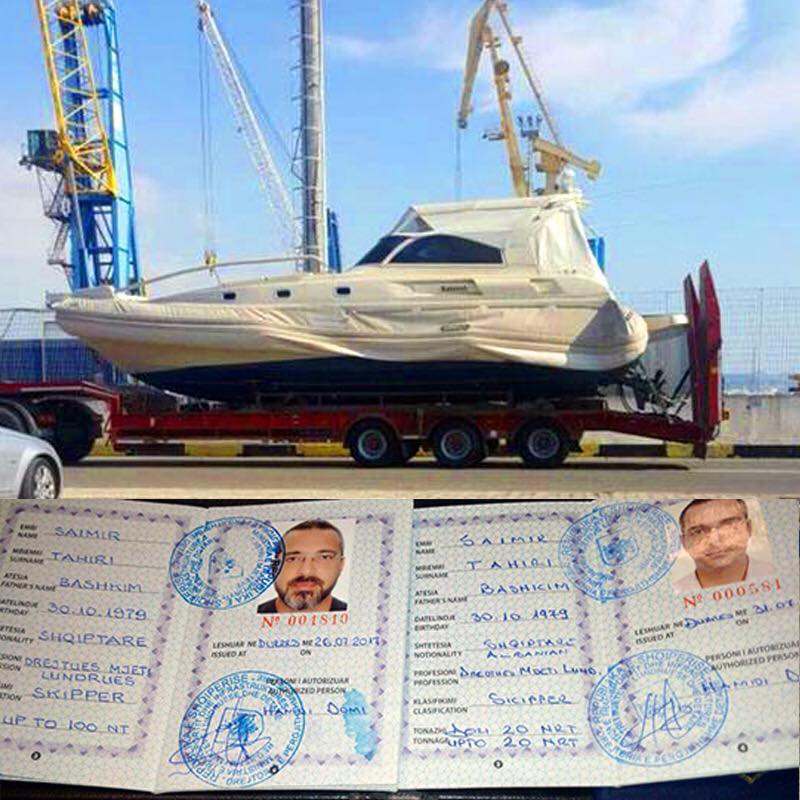 The procedures leading to former Minister of Interior Affairs Saimir Tahiri's arrest have unearthed new details of the former Minister's relationship with the Habilaj brothers, heads of a structured criminal group that trafficked narcotics from Albania to Italy and Greece.
In August 2014, a year into his mandate as minister in the Rama government, Tahiri travelled by private boat from Albania to Lefkada, Greece, on holiday with his wife, his parents, then Deputy Minister Elona Gjebrea, currently a Socialist MP, her husband and both couples' children.
During this trip, Tahiri's boat malfunctioned and he communicated several times with a police officer regarding the problem. The officer advised Tahiri to anchor his boat. Tahiri did so on the Greek coastline, and demanded the officer travelled to Greece to fix the malfunction. In a phone call, Tahiri told the officer that one of the Minister's trusted people would go and bring the officer to Greece.
The trusted friend was Artan Habilaj, part of the Habilaj gang, who met the police officer, with whom he was acquainted, the following day, and the two of them headed for Greece together, in the now infamous Audi AA003 GB owned by Tahiri.
Following their arrival in Greece, Tahiri took the car and he and Gjebrea headed toward Albania. It is not known who else was travelling with them, but it is known that Habilaj remained in Greece with the boat.
After failing to get it repaired, Habilaj sent the boat to Brindisi, Italy.
Meanwhile, after about a month, police officer Naim Brahimaj, along with Moisi Habilaj and Aurel Konakçiu, travelled to Brindisi to pick up the boat.
Brahimaj provided a witness statement supporting this fact, which has been further corroborated by the border control records showing that Brahimaj, Habilaj, and Konakçiu entered Bari, Italy in September 2014, via ferry from Durrës, and then travelled to Brindisi by train.
The malfunctioning boat was located in Brindisi. It could not be repaired, so it was going to be returned to Albania.
Following the return to Durrës, again by ferry, the boat was initially blocked by the police, but was then brought to shore and left there, after the owner came in with all the appropriate documentation.
During a parliamentary session, the opposition published images of the beached boat, accusing Saimir Tahiri, then Interior Minister, of being its owner. Tahiri denied everything and, following the allegations, the boat was moved from the coast to Hotel Royal, located along the Tirana–Durrës highway.
Later, Tahiri's boating licenses were found in a car belonging to businessman Orest Sota.