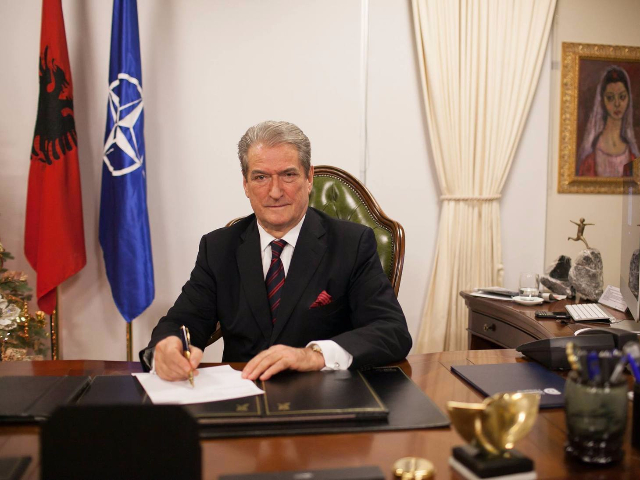 Former Prime Minister Sali Berisha, who has been declared persona non grata by the US, confirmed he will enter Albanian parliament on Friday as a Deputy for the Democratic Party.
During an interview with Euronews yesterday, he said that he will take up the position because people had voted for him.
"On Friday, Sali Berisha will be in parliament in accordance with the decision of the Albanian people."
Earlier this year, Berisha and his family were declared persona non grata and banned from entering the US due to "corrupt acts" that "undermined democracy in Albania."
In his statement, Secretary of State Anthony Blinken listed a long rap sheet of crimes as justification for the decision.
"Berisha was involved in corrupt acts, such as misappropriation of public funds and interfering with public processes, including using his power for his own benefit and to enrich his political allies and his family members at the expense of the Albanian public's confidence in their government institutions and public officials."
Berisha has not been convicted of a crime in Albania, and is not believed to be under investigation at the moment.
US Ambassador to Albania Yuri Kim made several calls for him not to enter parliament.
Berisha responded by pledging to take up the mandate, and by filing a Strategic Lawsuit Against Public Participation against Blinken. He claimed that he filed the suit in Paris because the statements were made online and were therefore available in France. Those initiating SLAPPs will often cherrypick a foreign jurisdiction to increase costs or take advantage of certain aspects of the law in order to further inconvenience the recipient.
In yesterday's interview, Berisha said the Democratic Party received 60,000 fewer votes in the 2021 general election when compared to the 2013 elections, when the Socialist Party took power. He said that the PD has to unite Albanian society, convince the internationals, and correct its past mistakes.
He also said electoral and territorial reform both require attention, with the former requiring consensus before further changes are made, something the recent reform lacked.