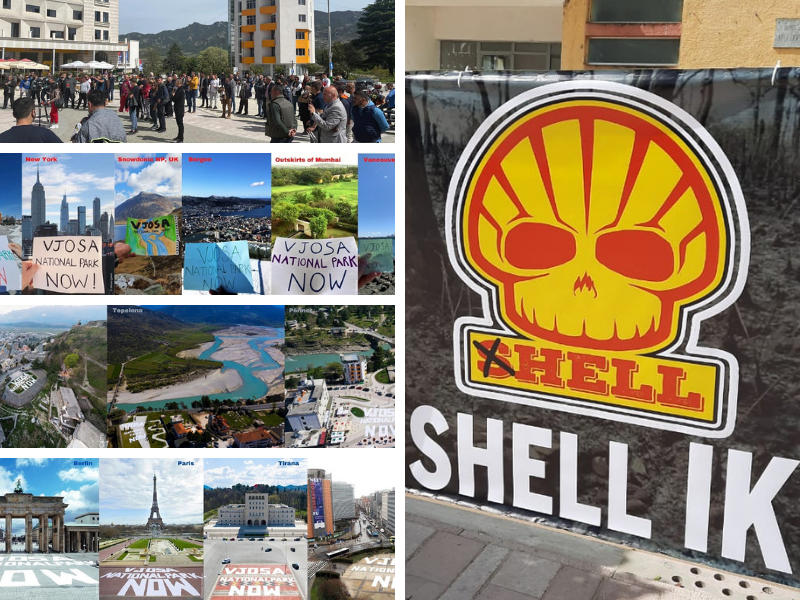 Oil company Shell has been ordered by a Dutch Court to cut carbon emissions by almost half by 2030.
The landmark case—which is likely to set the precedent for other areas of the fossil fuel business—was described as "disappointing" by a spokesperson who confirmed they will appeal.
The court ruled that the company is partly responsible for climate change and as a result, they must cut carbon emissions. The lawsuit was initially brought by environmental groups including Friends of the Earth, who demanded they bring emissions in line with the guidelines for United Nations Member States to prevent the planet's temperature from rising more than 1.5 C.
The claimants stated that Shell's production of oil and natural gas violates the rights of those living in the vicinity of such operations, neglects a duty of care to citizens, is a violation of human rights, and contributed to climate change. Instead of asking for damages, the organizations asked the court to make Shell reduce emissions.
As per the ruling, Shell must reduce emissions by 45% (when compared to 2019) by 2030 or face penalties. The court said that Shell is at risk of an "imminent breach" of their obligations and that this must be addressed.
Shell tried to argue that climate change is a societal issue and that a private company shouldn't be forced to reduce carbon emissions. They claim to have invested billions in low-carbon energy including biofuels, electronic vehicles, and renewable energy
The result of the case could mean more legal jeopardy for oil companies about the emissions they create. They are likely to be under more scrutiny now and paving the way for similar decisions against other companies and in other jurisdictions.
Amid increased pressure on such companies, Shell created an Energy Transition Strategy which was framed to appear like Shell is taking environmental matters seriously. Experts and individuals working in the environmental field said that there were various issues with the plan, figures, and targets laid forth in the document. They added that they would do little to help the company adhere to the Paris Agreement or UN obligations.
They claim they will commit to a 1-2% reduction in oil production, 55% hydrocarbon sales by 2030, and an 8x increase in the sale of biofuels. Essentially, they will be "freezing" the oil business, rather than decreasing or winding it down.
This has led to accusations of greenwashing, particularly considering their failure to meet their own target of investing $6 billion in renewables by 2020.
At the Shell annual meeting on May 18, several shareholders said the plan was not fit for purpose, lacked credibility, and would not adequately combat global warming. Shell will now be forced to consult shareholders and report back within six months on their progress.
The International Energy Agency announced on the same day that if the world is to stay within safe limits and meet the goal of net-zero emissions by 2050, the exploitation and exploration of new oil and gas fields must stop by the end of 2021. Sadly, Shell's plan was not in line with this recommendation. 
Executive Director of IEA, Fatih Birol said "If governments are serious about the climate crisis, there can be no more investments in oil, gas, and coat from now, from this year."
In terms of Shell's global activities, the NGO Carbon Tracker Initiative demonstrated that up to 70% of Shell's investments in new business and exploration go beyond what is needed if the world is serious about limiting global warming.
The court decision and the shareholder rebellion come as a double blow to Shell who also just lost a ruling in the UK which means some 40,000 Nigerian farmers can sue them for the damage they claimed the company has caused to the area where they live.
Farmers and landowners say that due to decades of pollution caused by Shell, their livelihoods, health, and environment has been significantly impacted.
People have reported the fact they can no longer fish and tend the land, people are dying, there is a higher rate of miscarriages and a prevalence of strange and uncommon diseases.
The Bille community and the Ogale people from Ogoniland brought a case against Shell in the English courts. Shell tried to prevent the action from being filed there but lost the case earlier this year. While not denying the pollution caused, they tried to argue they couldn't be held legally responsible for their Nigerian subsidiary but the court rejected it.
Shell has also found themselves in hot water in Albania when it was discovered they were looking for oil around the Vjosa River in southern Albania. 
The Vjosa has been subject to an international campaign to have its whole length and surrounding environment designated as a National Park. This would protect it from Shell, the Vlora Airport, and countless HPPs planned along its length. As the last wild river in Europe, the campaign drew attention from Leonardo di Caprio, Patagonia, Riverwatch, and even WeTransfer.
Prime Minister Edi Rama has refused to designate the area as a National Park, instead, designating it as a Protected Area which does little to protect it from anything at all. It's likely that if Rama designated the area as a National Park, it would render the multi-million euro contract signed with Shell in 2018 to explore Block 4 over a duration of 25 years, void.
The company admitted they were doing a geophysical survey to look for oil in the region including "a small part of which is the Vjosa Valley." If any oil or gas reserves are found they said that a decision would be taken "towards the end of the decade at the earliest and in close consultation with the government." Confusingly, they also stated that "[they] will never drill for hydrocarbons in the Vjosa Valley or in the protected central zone of the nearby Zagoria Natural Park."
This begs the question as to why they would be surveying an area if they do not plan to drill there. It's also not clear what the need for a "decision towards the end of the decade" is, if they are not planning on extracting oil.
But as locals and environmental groups have pointed out, drilling anywhere near the Vjosa, in its valley, or around any of its tributaries or smaller rivers that feed into it, can still put the river and its ecosystem under threat. Residents from the local area have been adamant that they do not want Shell anywhere near their homes because of the risk of pollution and contamination to the environment, water supplies, and the land.
A petition to the EU regarding Shell's presence in the area currently has almost 3,000 signatures.
Shell claims they have been in constant contact with local people and that they are listening to them, but local people claim they have told Shell to go and that the company is not welcome. Shell also claims they haven't done any drilling yet, but photos from Block 4 show machinery and areas of ground that have been disturbed as a part of the work being carried out.
Considering the new ruling, the statement from the IEA, and of course, Albania's legally binding signature on the Paris Agreement, it seems any further exploration for oil in the country would not be a smart move.